Aguja Guillaumet, on the Fitz Roy range,  is one of the entry climbs in Patagonia.
A tough camp approach with heavy loads, glacier travel to get to the climb start, and a long day dealing with all the mountain elements, snow, rock, ice, wind…sounds like fun?
BRIEF
HIGHLIGHTS
WHAT'S INCLUDED
NOT INCLUDED
BRIEF
We start our trip in Calafate, your arrival point. The drive to Chalten will give you a first glimpse of the inmense dessertic step landscabe with its guanacos (a lama cousin), choiques (similar to ostrich) and condors. Once we arive to the little town of Chalten, we enjoy a good dinner in town and get ready for the next day.
Before getting to our climb we spend a day climbing in town, one of the great multipitch routes avaliable. this will let us know each other better while reviewing and getting dialed climbing techniques. Also will help us define the most according route option in Guillaumet.
Once we approach to basecamp our adventure begins, getting inside the world of towers of the fantastic Fitz Roy range.
On summit day, we do a real alpine start before getting to the start of our climb. Depending on our route, we´ll be able to climb alpine snow and ice up to 80 degrees on the Amy route or deal with 5.9 to 10.b rock grades on the Brenner or the Founrouge. All of this three options join at some point, where we have to climb easy terrain and a snowy ridge to get to the summit.
At the top of Guillaumet views are incredible: Fitz Roy and Cerro Torre, the continental Ice Cap and the dessert. A really unforgettable moment.
HIGHLIGHTS
WHAT'S INCLUDED
NOT INCLUDED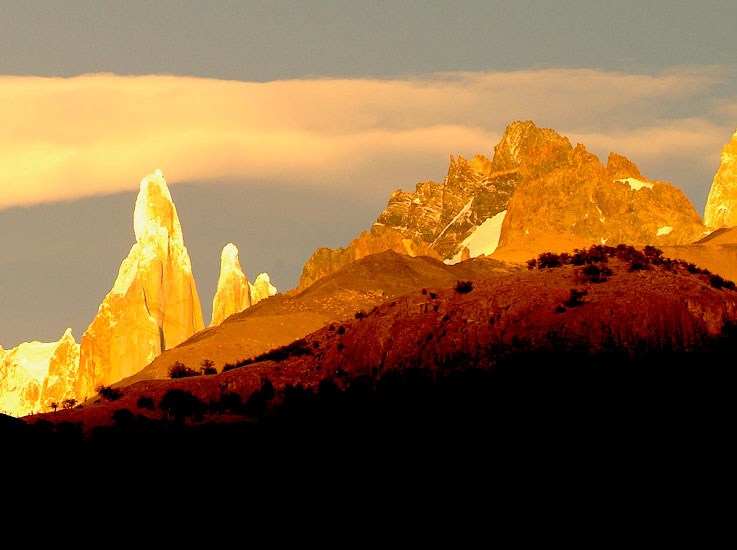 Skill level: Advanced. 20-25 kg packs. Alpine rock
5.9 to 10.b. Ice up to 60 degrees. Intermediate alpine
climbing experience required.
• Location: Los Glaciares N. P., Patagonia, Argentina
• Length: 7 days
• Climber/guide ratio: 1:1 / 2:1
• Capacity: 2
• Cost per person: 1:1 US$3200 2:1 US$2100
• Departure dates: n request from October to March.
DAY 1
Bariloche.  We meet at the airport and transfer to your hotel where we do an intro of the trip and check gear. After we go out for dinner. This cozy town by the lake offers good restaurants, nightlife and D.
DAY 2
Piedra Parada. From downtown we start driving south on the 40 route. We first pass through El Bolsón, a nice small town before starting to leave the mountains and getting to the desert. After a 4 hours ride we get to the Chubut River where Piedra Parada and LA Buitrera are. We set camp take a rest and go for our first session in the Canyon. In the night, we have dinner by the fire, and enjoy a pleasant and quit night by the river. B, LB, D.
DAYS 3 and 5
Climbing Piedra Parada .  We spend the next 3 days in this rock paradise by the river, choosing routes according to individual climbing skills and objectives. Here we'll be able to climb single and multi-pitch routes, every level available,  always surrounded by this amazing Patagonian landscape. B, LB, D.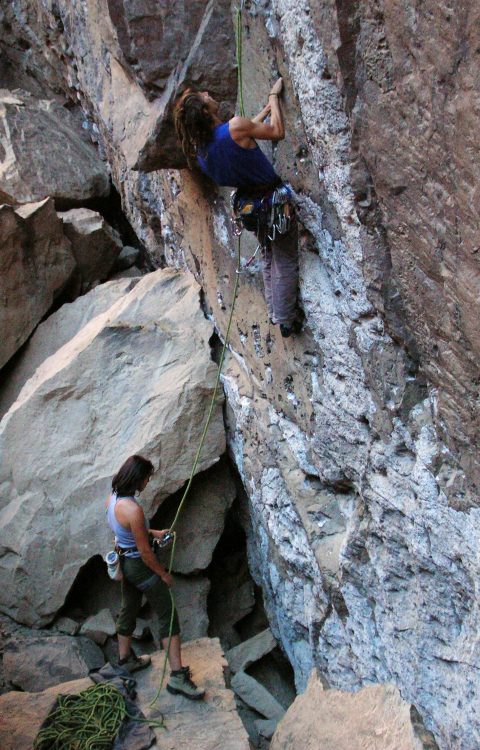 DAY 6
Bariloche. After our last session of climbing we hike down towards our car, in time to get to the hotel for a well deserved shower and a great celabration dinner. D.
DAY 7
Flight back. After breakfast we drive to the airport for your flight home. End of our services.