An offering of Wilderness Medical Society. Logistics and guiding by Andes Mountain Guides
This accredited curriculum's highlights include pathophysiology, treatment and prioritization of care for a variety of medical problems commonly encountered in wilderness environments and settings remote from hospital/ definitive care. Physicians and allied health care providers who counsel patients traveling to remote areas will be interested in the topics covered during this unique CME event.
The climb to the "Roof of Africa" is without a doubt one of the worlds great adventures. Climbing from Kilimanjaro's rainforests to its glacier capped 19,340 foot summit is simply an amazing experience. If that isn't exciting enough we will cap our adventures off with an African Safari
BRIEF
HIGHLIGHTS
WHY COME WITH US
WHAT'S INCLUDED
NOT INCLUDED
BRIEF
We set base in Moshi, a quiet town at Kilimanjaro foothills. After a day in town organizing everything and starting with our CME lectures, we start moving through the Shira-Barafu route. This approach starts at the forest, to gradually get close to the Kibo peak.  A classic day starts with a fantastic breakfast, in campssites surrounded by lunar landscapes, hiking always with great views of the African Savannah. The trail follows different environments, from rain forest to moorlands, to the surreal crater at the top of the mountain, where we camp by the glacier. The summit day we climb off the beaten path, giving the ascent a little more technical and much more enjoyable finale than the normal route.
After our Kili summit we visit the iconic parks of Ngorongoro, Lake Manyara and Tarangire, experiencing three days in full contact with the African landscape, its wildlife and culture. An amazing and exotic trip to a fantastic summit in a fascinating country.
HIGHLIGHTS
WHY COME WITH US
WHAT'S INCLUDED
NOT INCLUDED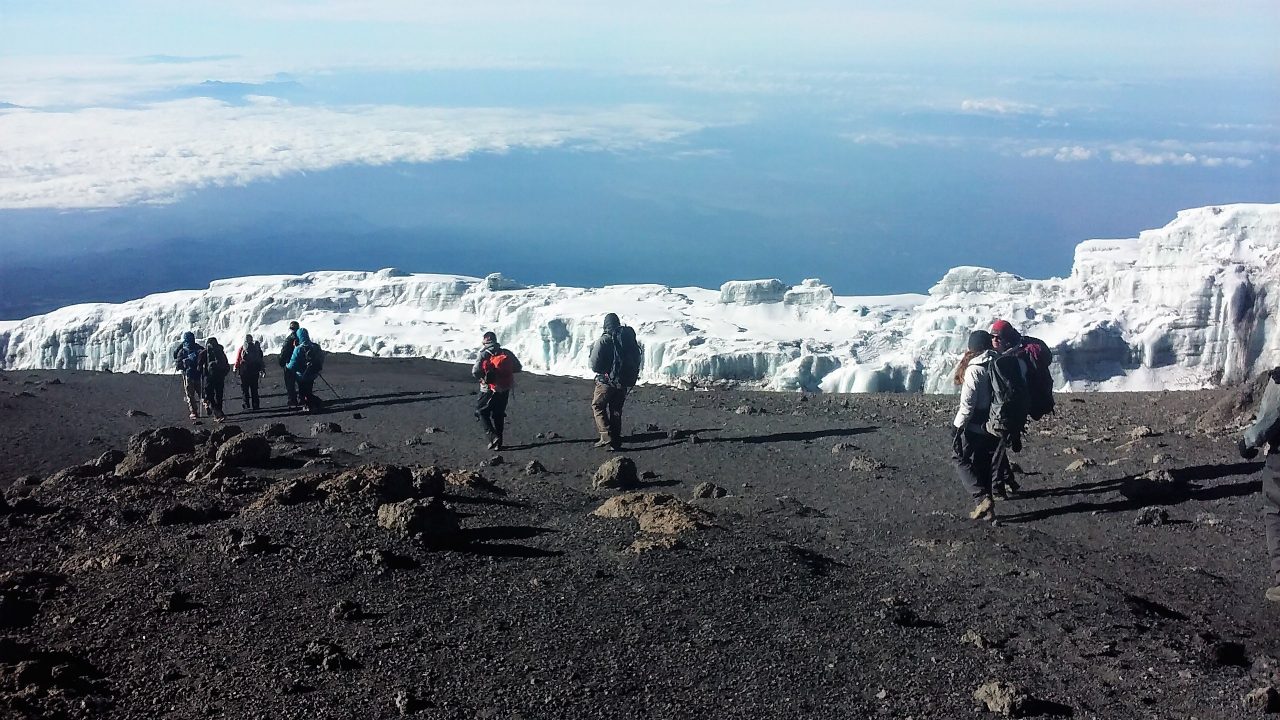 LOCATION: Kilimanjaro, Tanzania.
2022 DATES: December 4th to the 18th
PRICE: US$6000 Including (17 hours AMA/PRA Category 1 CME credits)
Additional Non-Physician Wilderness Medical Education Cost: $500.00 (Wilderness
Education Diploma from AMG)
DIFFICULTY: Non technical ascent. Moderate hiking.
DURATION: 15 days
CLIENT/GUIDE RATIO: 4:1
Watch herds of wildebeest traverse the african savanah, get up close with herds of elephants, watch zebras and giraffes run on the plain, and see some of the last remaining wild big cats stalk their prey. East Africa is one of the most amazing and enchanting places on earth to visit.
The summit's accessibility is one amazing characteristics of Kilimanjaro. There is no technical climbing involved in the ascent and any climber who is in good physical condition can reach the top with out complicated skills and expensive climbing equipment. This the only mountain of the seven summits, the tallest mountain on each of the seven continents, that is accessible to novice climbers with no high altitude experience and is a great prelude to climbing high mountains in the Himalayas or the Andes.
DAY 1
Depart from home airport. Travel to Kilimanjaro Airport, Tanzania. For Western clients this can be a 24 hour flight. We find it easiest to fly KLM and to flying from Amsterdam directly to Kilimanjaro International Airport (JRO).
Arrive in Kilimanjaro Airport, Tanzania. Upon your evening arrival, you are met by your AMG Guide and transferred to your hotel in Moshi. Overnight Hotel. (Dinner)
CME, 2 hours
EXPEDITION MEDICINE
Planning for expedition medics: common expedition problems, treatment and evacuation strategies.
BACKCOUNTRY MEDICAL KITS
Detailed discussion of medical supplies needed in remote environments.
DAY 2
Team Orientation. Morning team orientation staff meeting, and client social. We will spend most of the day organizing and packing our gear and will have some time in the afternoon to relax by the pool and recover from our long flights. Overnight Hotel. (Breakfast, Lunch, Dinner).
CME, 2 hours
ADVANCES IN PREVENTION AND TREATMENT OF ACUTE MOUNTAIN SICKNESS (4 Hours)
Pathophysiology, diagnosis, and treatment of altitude illness
ASSESSING THE UNWELL AND RETURNED TRAVELER
Assessing the unwell traveler, Diagnosis of febrile traveler and returned traveler, Laboratory testing and patient histor
DAY 3
Forest Camp. After breakfast we'll drive to the western side of Mount Kilimanjaro where you will sign in at the Londorosi Gate and get your climbing permit. From there we'll drive to Lemosho trailhead where we'll meet our expedition staff. We will hike for 3-4 hours before reaching Forest Camp (9,200 feet, 2804 meters). As the name suggest the camp is located in a dense temperate forest zone on the slopes of Mount Kilimanjaro. (Breakfast, Lunch, Dinner)
CME, 2 hours
AVALANCHE RESUSSITATION
Treatment and avoidance of avalanches
BACKCOUNTRY PODIATRY AND GENERAL FOOT CARE DURING AN EXPEDITION
Treatment and avoidance of trench foot and other common foot problems during and expedition
DAY 4
Shira Camp (11,500 ft, 3505 meters). We'll leave camp just after breakfast and ascend to Shira Camp which is located at the heather zone along the Shira Caldera. We will hike for 2-3 hours before we get out of the forest zone. We'll press ahead into the heather zone (sub alpine), where we'll stop for lunch. We will continue trekking, traversing the Shira Ridge and camp in the Shira Caldera with its dramatic views of Kibo peak. 5-6- hours walk today. (Breakfast, Lunch, Dinner)
CME, 1 hour
FROSTBITE AND OTHER COLD INJURIES
Pathophysiology, diagnosis and treatment of cold injury
DAY 5
Moir Camp (13,800 ft, 4206 meters). Today we'll hike for about 4 hours across the Shira Caldera towards the Western side of the Kibo Volcanic Massif. Camping at the Moir Camp is a wonderful experience! We'll have panoramic views over the Rift Valley and into the heart of Africa. Moir Camp is located at the transition zone between the heather and Moorland, the only place we'll see the higher altitude plants like the Giant Ground Sells and Lobelia. (Breakfast, Lunch, Dinner)
CME, 3 hours
MANAGEMENT OF FRACTURES & DISLOCATIONS
Diagnosis and treatment of orthopedic injuries in the backcountry
LIGHTNING: PREVENTION AND INJURIES
Prevention/avoidance. Epidemiology, pathophysiology, evaluation, treatment.
DAY 6
Barranco Camp (13,200 ft, 4023 meters). Today is an acclimatization day. We will hike to an elevation of 15,000 feet before descending to our camp. The hiking time is about 6 hours. We will pass by Lava Tower and enter the alpine zone. We'll move slow today and work on acclimatization.
CME, 3 hours
BACKCOUNTRY WATERBORNE ILLNESSES and WATER DISINFECTION
How to disinfect surface water effectively. Participants may have the opportunity to test different water treatment devices and learn about chemical and natural water disinfection techniques. Discussion of giardiasis and other diseases contracted by ingestion of microorganisms commonly found in wilderness water source
DAY 7 
Barafu Camp (15,100 ft, 4602 meters). We continue hiking through rolling hills as we gradually approach Barafu. The hiking will take between 3-4 hours. (Breakfast, Lunch, Dinner)
CME, 3 hours
PAIN MANAGEMENT IN REMOTE AREAS
How to manage pain in wilderness austere, and operational environments without many resources. What medications should be carried by expedition and operational medics
HYPOTHERMIA: CLOTHING SELECTION FOR WILDERNESS SURVIVAL
Pathophysiology, diagnosis, treatment and prevention of hypothermia emergencies that may occur in an urban or wilderness environment. Clothing selection and use to prevent a hypothermia emergency
SOLAR INJURIES. Diagnosis, treatment and prevention of solar injuries, specifically those related with skin and eye
DAY 8
Summit Day (19,340 ft, 5894 meters) . At 06:00 we'll begin our ascent to Uhuru Peak. After 2-3 hours of hiking we will be standing on top of the highest free standing mountain in the world, 19,340 feet above the sea level. We'll spend as much time as possible on the Roof of Africa taking pictures and enjoying the incredible views. From the summit we'll descend for 2-3 hrs and after a short stop for lunch around Barafu Camp (15,100 feet) descend for 3-4 hrs and to Mweka Camp where we will have a victory celebration and spend our last night on Kilimanjaro. Total hiking time 8-10 hours. (Breakfast, Lunch, Dinner)
DAY 9
Exit via Mweka Gate. After a much needed rest we'll descend for 3-4 hours to Mweka Gate. We'll bid a sad goodbye to our trekking crew and transfer back to the Hotel for warm showers, relaxation, and more celebrating. (Breakfast, Lunch, Dinner)
DAY 10
Tarangire National Park. In the morning we drive towards Tarangire, which is home to more elephants per square mile than anywhere else in the world. This Park boasts the highest concentration of wildlife during the dry season of any area in Tanzania outside the Serengeti/Ngorongoro ecosystem. It is well known for it's river valleys, wetlands, gently rolling hills, rocky outcrops, acacia woodlands and numerous baobabs (the upside down tree). We enjoy a picnic lunch in the bush before driving to our lodge. (Breakfast, Lunch, Dinner)
DAY 11
Lake Manyara National Park. After breakfast we leave the lodge and drive to Lake Manyara National Park. This Park sits right at the base of the Eastern Great Rift Escarpment-a truly dramatic setting! Although small compared with other game reserves, this 125 square mile Park has a year round water supply that supports numerous animals. The close proximity of a variety of distinct vegetation zones is a perfect environment for viewing all sorts of animals. In the lush forests, we will see troops of baboons and blue monkeys. While traveling along the shoreline of Lake Manyara, we can see large numbers of elephant, hippos and some of the 450 species of birds that call this area home. If we are lucky, we might even be able to spot a lion. We'll have lunch overlooking the Lake before driving to our Lodge. (Breakfast, Lunch, Dinner)
DAY 12
Ngorongoro Crater Conservation Area. Today we head for the Ngorongoro Crater. Often referred to as the "eighth wonder of the world", this is the largest unbroken and unflooded caldera in the world. It is home to more than 30,000 mammals, and offers some of the best game viewing opportunities in Tanzania. It reputation as one of the world's most unique ecosystems and premier game viewing areas is well deserved. We spend all day exploring the unforgettable crater floor before returning to our lodge. (Breakfast, Lunch, Dinner).
DAY 13
Transfer to Airport. After breakfast we leave our safari lodge and drive back to Moshi. We check into the Hotel for the afternoon, giving us plenty of time to clean up and repack our bags. After an early dinner, we are transferred to the airport for our evening flights. (Breakfast, Lunch, Dinner)
FULL DISCLOSURE STATEMENT
Faculty member has disclosed no real or apparent conflict of interest related to the content of this presentation. Faculty has no financial conflicts of interest related to this presentation.
ACCME Statement:
This activity has been planned and implemented in accordance with the accreditation requirements and policies of the Accreditation Council for Continuing Medical Education (ACCME) through the joint providership of The Wilderness Medical Society and Andes Mountain Guides. The Wilderness Medical Society is accredited by the ACCME to provide continuing medical education for physicians.
The Wilderness Medical Society designates this educational activity for a maximum of 16 AMA PRA Category 1 Credits TM. Each physician should only claim credit commensurate with the extent of their participation in the activity.