PATAGONIA CLIMBING TOUR
TRIP DETAILS
• Skill level: Advanced. 20-25 kg packs. Alpine rock
5.9 to 10.b. Ice up to 60 degrees.
• Location: Bariloche and Chalten, Patagonia, Argentina
• Length: 17 days
• Climber/guide ratio: 1:1 / 2:1
• Cost per person: 1:1 US$8800 2:1 US$5100
• Departure dates: on request from October to March.
IFMGA/UIAGM Mountain Guides (English-Spanish)
2 hotel nights Bariloche/1 hotel night Bolson /3 Hotel nights at Chalten
All food when trekking/climbing
Restaurant dinners (drinks not included) as seen on itinerary
All camping and cooking gear
Private ground transportation during the trip
Group technical gear (ropes, climbing gear, snow shovel, maps, G.P.S, compass, etc)
Satellite phone service
24/7 assistance in the US before and during the program.
Not included
Plane tickets
Access fees
Porters
Restaurant Meals and those meals not listed in the itinerary
Restaurant drinks
Personal equipment
Personal expenses
Rescue costs and extra expenses caused by abandoning the trip
DAY 1
Bariloche.  We meet at the airport and transfer to your hotel where we do an intro of the trip and check gear. After we go out for dinner. This cozy town by the lake offers good restaurants, vibrant nightlife and  friendly people. D.
DAY 2
Frey approach. From downtown we drive to the foothills of Cerro Catedral, a world class ski resort. From here we traverse by the Gutierrez Lake to get to the Van Titter creek and walk the last switchbacks to Refugio Frey, at 1770 meters above sea level.  A porter will help us with the supplies for the next days. After getting there, we set up our tents and get the first glimpse of the area granite spires. Depending on how we feel, we might do some climbing in the evening. B, LB, D.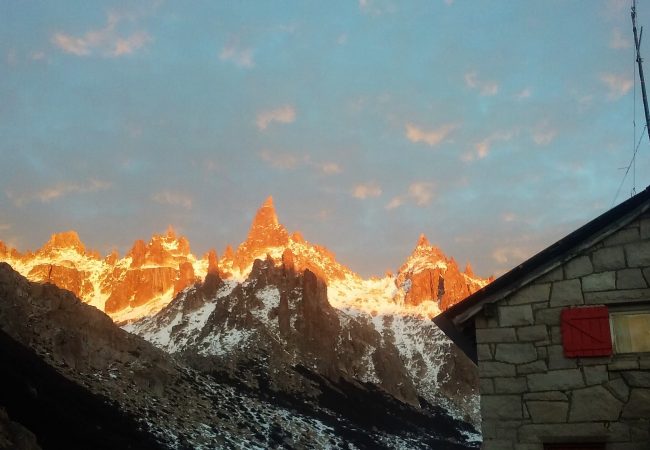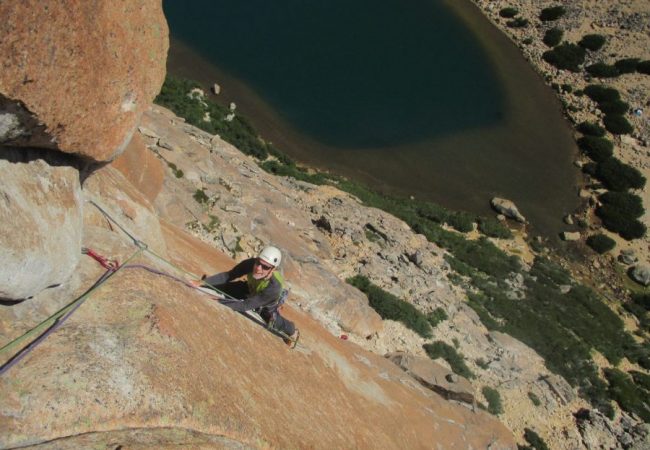 DAYS 3 and 4
Climbing Frey. We spend the next 2 days in this rock paradise by the lake, choosing routes according to individual climbing skills and objectives. Here we are to climb single and multi-pitch routes from bolted faces to long cracks, always surrounded by this amazing Patagonian landscape. B, LB, D.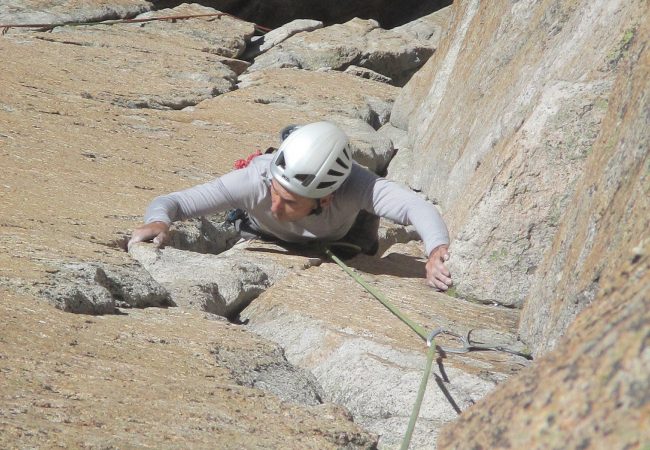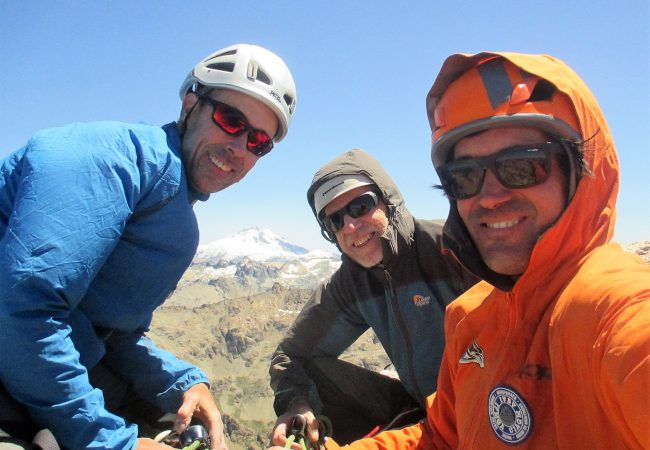 DAY 5
Frey- Bariloche.  After our last session of climbing we hike down towards our car, in time to get to the hotel for a well deserved shower and a great  dinner. B, LB, D.
DAY 6
Bariloche- Pampa Linda.  We pick you up at your hotel, then drive to Pampa Linda, check in with the park rangers and hike 4/5 hours to Meiling Hut at 1900 mts. In the evening we arrange our equipment, enjoy dinner at the hut and get ready for summit day. B, LB, D.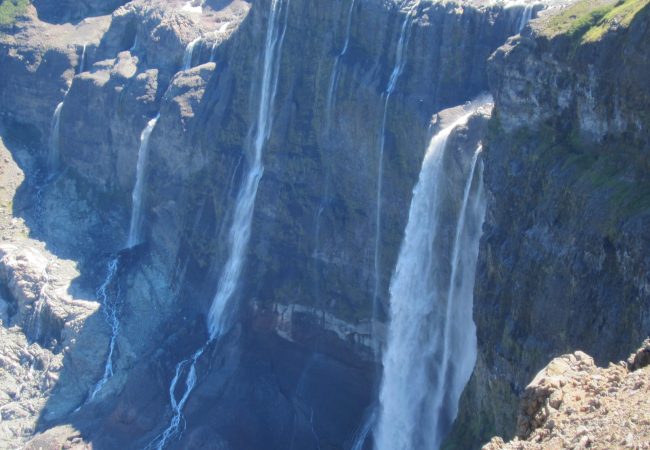 DAY 7
Tronador Summit. Early in the morning we start hiking on the glacier to take advantage of the firm frozen snow. Our first challenge will be to traverse the Filo de La Vieja, a sharp ridge that divides two glaciers. After a technical descend from the Filo, we keep traversing though crevasses and seracs until reaching the big plateau before the summit. From here the terrain gets steeper and wind increases at the pass, so we change techniques to short roping, pitching and/or rope fixing to deal with the last challenging section that leads us to the summit of the Argentinean Peak. After spending some time on the top, we traverse back to the hut. B, LB, D.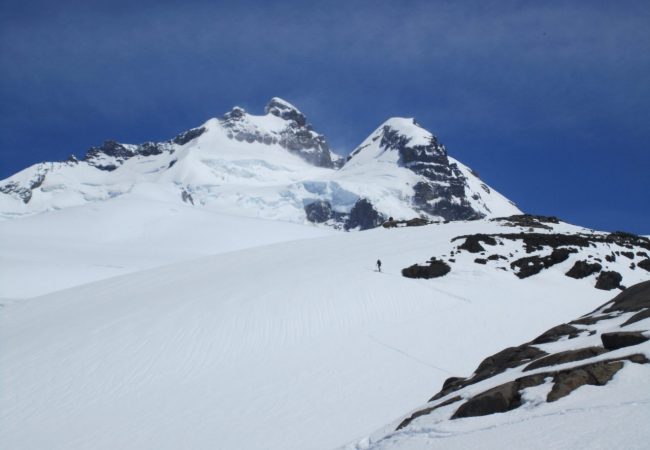 DAY 8
Pampa Linda/El Bolson.  We leave Meiling Hut after breakfast. We retrieve the moraines and forest to get back to Pamla Linda, where we have lunch beforewe start driving to El Bolson, for dinner and lodging Hotel. B. L. D
DAY 9 and 10
Piedra Parada. From Bolson we drive to Piedra Parada where we get our fingers strong at this great crag at the Chubut desert. On a magic patagonian landscape, we'll get in shape, refine techniques and climb a lot before moving to our next objective. B, LB, D.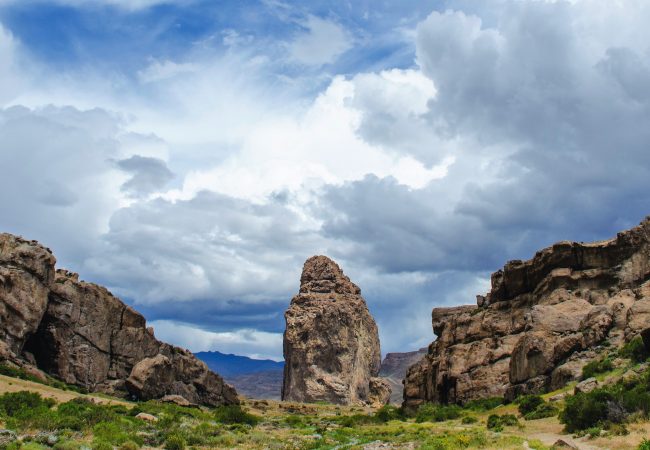 DAY 11
El Chalten. Early in the morning we drive south to EL Chalten, where we arrive in the evening. During the ride we are able to witness the inmense patagonic steppe and its wildlife. Once in Chalten we have dinner and enjoy the comfort of our hotel. B, LB, D.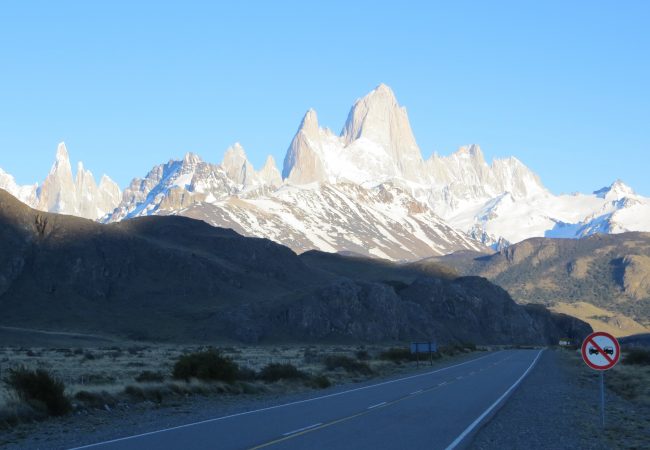 DAY 12
El Chalten. We use a deserved rest day, getting everything ready for our next goal. B.
DAY 13
Piedra Negra Camp. We use the morning to rest and organize last details. Just after brunch we drive to the Rio Eléctrico bridge where we'll start hiking towards Piedra del Fraile first,  and then though the steeper trail in the area, to reach our bivy site. Good dinner, early bed and focus on the next peak. 4 to 5 hours. B, LB, D
DAY 14
Aguja Guillaumet. Depending on personal preferences and conditions, we'll chose between two classics: a mostly rock climbing route on the northwest face or a classic ice and snow couloir on the Amy Route. Both routes are fantastic, and we'll be the perfect finale for this alpine trip. 10 to 12 hours. B, LB, D.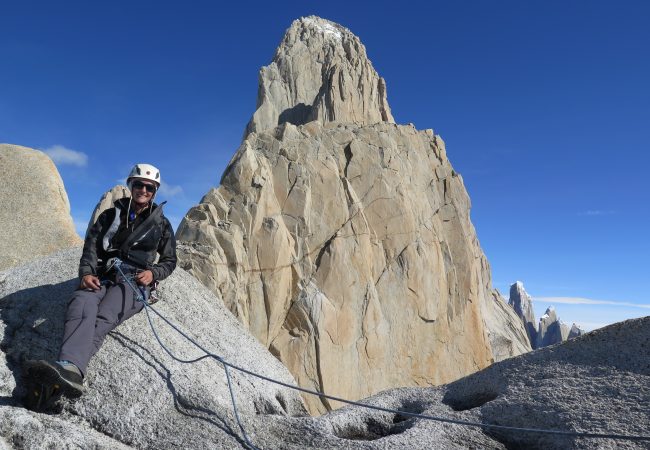 DAY 15
El Chalten. We break camp and get back to Chalten for our last night together, which we celebrate with a traditional "asado" at the gaucho´s place. B, LB, D.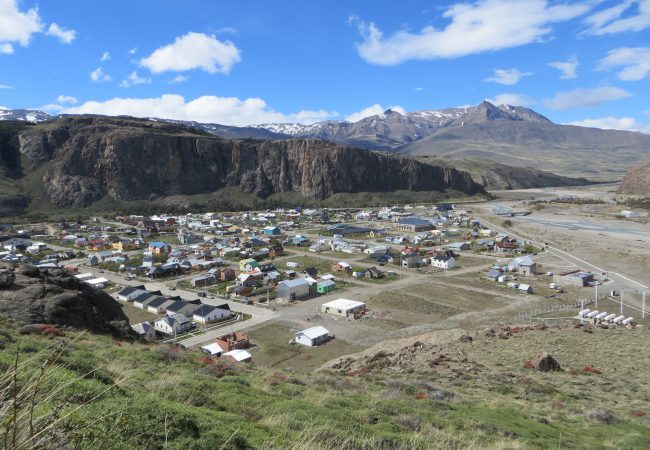 DAY 16
Extra day. We'll use this back up day for weather  and other considerations. B, LB, D.
DAY 17
El Calafate/Bariloche. Drive to the Calafate airport for your flight home or back to Bariloche. B