T he remote Continental Ice Cap is one of the wildest places on earth, a surreal world of ice and rock, where explorers will have a unique and rewarding experience. This intense trip to the southern Patagonia will allow you to admire the contrast between desolated yellow steppe, deep green Nothofagus forest and the white horizon of the Ice continental cap. This full circuit around Fitz Roy and Cerro Torre massif will offer impressive views of the many famous rock spires. Walking and camping on the ice will reward us with a powerful experience in this exceptional place.
EXPEDITIONS HIGHLIGHTS
● Trek with a local IFMGA certified mountain guide, with huge experience in this circuit
● Experience the ultimate patagonic expedition
● Get to the Continental Ice Cap, one of the most surreal, isolated and fascinating spots on Earth
● Enjoy the small climber´s basecamp atmosphere of El Chalten town with its crags, bars, restaurants and wineries
● Take advantage of the personalized service that makes Andes Mountain Guides the best option in Patagonia
The Ice Cap Expedition
We meet at the airport  in Calafate, where we start driving though the dessert to get to El Chalten, a small town/base camp with great lodging, restaurants and a cosmopolitan atmosphere. Here we can already enjoy fantastic views of the Fitz Roy and Cerro Torre Ranges.
On our first days we move along the Eléctrico River to get to the Marconi Pass, the natural gate to enter the Ice Cap. Our camps need to be bombproof due to the strong Patagonia weather.  Our next stage will be the Circo de los Altares, an incredible place at the feet of the legendary Cerro Torre.
Once on our way again, always pulling our sleds,  we keep traversing on the icefield to reach our way out at Paso del Viento, where we get to rock fields and forest again. From here a couple of days of trekking will take us back to  El Chalten, where showers and a great traditional dinner will be waiting for us.
This is a real expedition, on isolated terrain, and enduring the worst weather on Earth, but experiencing one of the wildest landscapes ever and taking a life-changing challenge.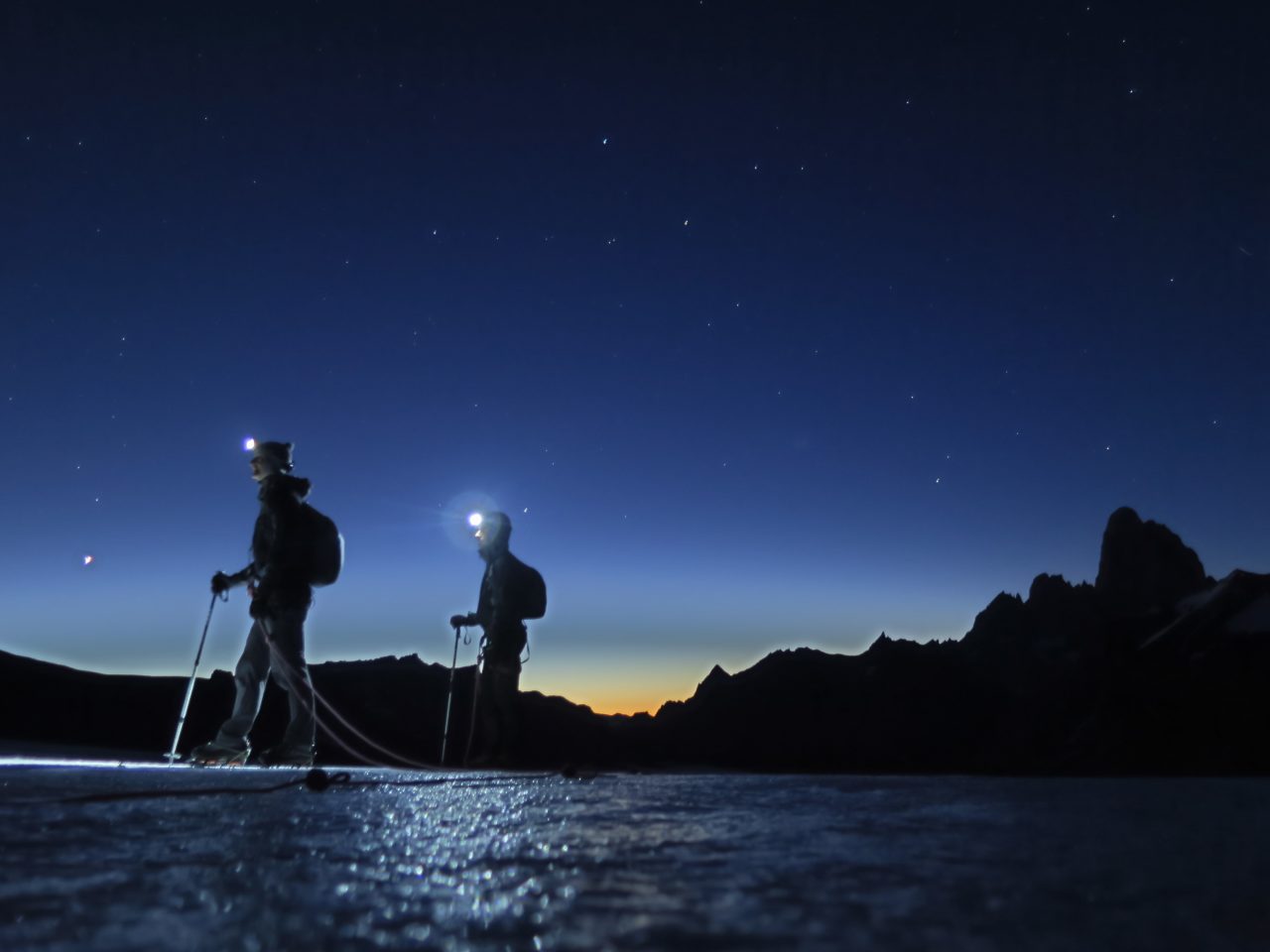 Why come with us?
AMG offers the highests standards on Patagonia guided expeditions. Being a small company specialized on custom trips, we approach our Ice Cap Expedition with the same spirit, offering a personalized service in every aspect, with the advantage of having an office both in Argentina and in the USA.  Our groups are small, our expeditions don´t overlap and our guides are simply the best: fully IFMGA certified, elite alpinists with extensive experience working  not only in Patagonia but all around the world.
Reviews
"All the guides did a splendid job in organizing and adapting to every twist from lost baggage to frozen bathroom water. The technical teaching was exceptional and all the guides were helpful, kind, funny and responsive to each concerned voiced by the group.The bottom line is you guy are great and it was a pleasure to be part of the expedition…"
Dr. Scott Unice, Idaho, USA