CLIMBING AGUJA GUILLAUMET
TRIP DETAILS
• Skill level: Advanced. 20-25 kg packs. Alpine rock
5.9 to 10.b. Ice up to 60 degrees. Intermediate alpine
climbing experience required.
• Location: Los Glaciares N. P., Patagonia, Argentina
• Length: 7 days
• Climber/guide ratio: 1:1 / 2:1
• Capacity: 2
• Cost per person: 1:1 US$3200 2:1 US$2100
• Departure dates: n request from October to March.
IFMGA/UIAGM Mountain Guides (English-Spanish)
3 Hotel nights at Chalten
All food when trekking/climbing
Restaurant dinners (drinks not included) as seen on itinerary.
All camping and cooking gear
Private ground transportation during the trip
Group technical gear (ropes, climbing gear, snow shovel, maps, G.P.S, compass, etc)
Satellite phone service
24/7 assistance in the US before and during the program.
Not included
Plane tickets
Access fees.
Porters
Restaurant Meals and those meals not listed in the itinerary
Restaurant drinks
Personal equipment
Personal expenses
Rescue costs and extra expenses caused by abandoning the trip"
DAY 1
El Calafate. We meet at the airport before driving through the step for for 3 hours to Chalten. After arriving  we check in at our Hotel and go out for a welcome dinner, good chance to know each other and make a good introduction of the trip. D.
DAY 2
El Chalten Climbing. This day we focus on reviewing climbing techniques at on of the crags around town. A proper team preparation, and getting everybody in the same page, will be key for our safety and climbing success. B, LB, D.
DAY 3
Piedra Negra Camp. We start driving early to the Rio Eléctrico bridge where we hike towards Piedra del Fraile first before getting to the steeper trail in the area, to reach our camp site. Good dinner, assess conditions, early bed and focus on our goal. 4 to 5 hours. B, LB, D.
DAY 4
Aguja Guillaumet. Early in the morning we start our approach to the base, dealing with moderate snow climbing (2-3 Hours) Then we'll get to the climbing itself: several pitches of moderate alpine climbing through high quality granite, alpine snow and impressive views. After summit we rappel the same route and get back to camp, where we'll spend the night (aprox 15 hs. roundtrip). B, LB, D.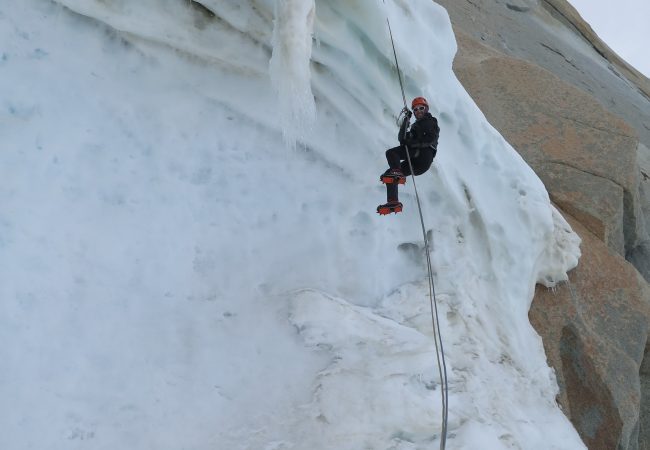 DAY 5
Back to Chalten. After breakfast we'll start hiking towards the Eléctrico bridge and then back to town, where hot showers, a comfy bed and a great celebration dinner will be waiting for us. 4 hours. B, LB, D.
DAY 6
Extra day. We'll use this back up day for weather  and other considerations.
DAY 7
El Calafate. Transfer from El Chaltén to El Calafate. End of the program. B.