Bariloche -Tronador Traverse
TRIP DETAILS
• Skill level: Advanced. 8 hour days with
a 30 pounds pack
• Location: Bariloche, Patagonia Argentina
• Length: 5 days
• Trekker/guide ratio: 1:1 / 4:1
• Cost per person: 1:1 US$1800 4:1 US$1300
• Departure dates: on request from October to April.
AAGM/UIMLA Mountain Guides (English-Spanish)
All the food when trekking/climbing
2 Restaurant dinners in town (drinks not included)
Tents and cooking gear
Private ground transportation during the trip
24/7 assistance in the US and ARG before and during the program.
Not included
Personal Porters
Restaurant and Hut drinks
Personal non-technical equipment
Personal expenses
Rescue costs and extra expenses caused by abandoning the trip
DAY 1
Bariloche. We meet the night before to check gear, make an introduction to the trek and enjoy dinner together.
Bariloche- Laguna Negra.  We pick you up at your hotel where we check gear and arrange the last details. In the morning we drive to Cerro Catedral, where we start our traverse to Frey. 4 hours. LB, D.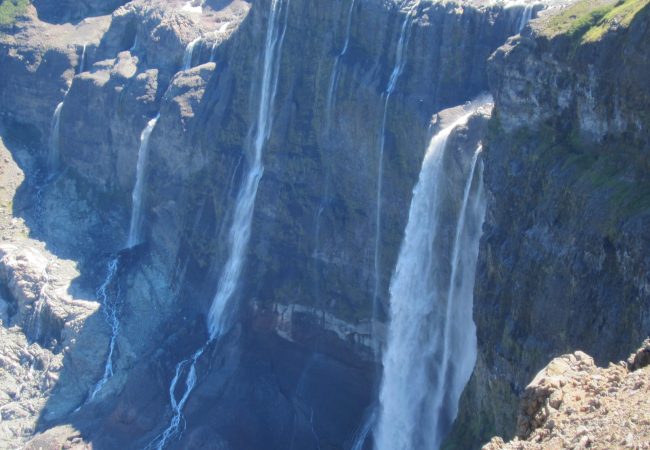 DAY 2
Laguna CAB. Early in the morning we have breakfast at the hut and start hiking towards the ridge going down to the Rucaco Valley later. After crossing the valley and gaining another ridge we get to see the Jakob lagoon and the hut, our next objective. 6 hours. B, LB, D.
DAY 3
Laguna Creton. After a relaxed night at the hut we leave it after breakfast. We climb Pico Refugio, a technical passage before getting later to the Cerro Navidad. After a high traverse following the ridge we have Laguna Negra around the corner. 6 hours.  B, LB, D.
DAY 4
Laguna Ilon. From Laguna negra we get to the Bailley Willis ridge, with amazing views of Mt Tronador, After several hours we hike down to the Lopez hut, sert in a fantastic location, with panoramic views of the Nahuel Huapi and Moreno lakes. 6 hours.  B, LB, D 
DAY 5
Pampa Linda- Bariloche.  From the hut we follow the Lopez creek all the way down to the road from where we drive to your hotel. We get together at night for a farewell dinner.  B, LB, D