Aconcagua Polish Direct
TRIP DETAILS
• LOCATION: Aconcagua Park, Mendoza, Argentina
• DEPARTURE DATES: On Request
• PRICE: $12500
• DIFICULTY: technical ascent at high altitude. Ice/snow
slopes up to 75 degrees. Summit day 10 to 15 hours.
• DURATION: 20 days
• CLIENT/GUIDE RATIO: 1:1

IFMGA/UIAGM Certified Mountain Guide (bilingual)
2 nights Hotel accommodations in Mendoza. 1 night Hotel Uspallata.
5 nights full board at Mulas. Free Wifi and showers.
Assistance obtaining the permits (permit's fee not included)
All meals while in the mountain
Restaurant meals in Mendoza and Penitentes (as seen on the Itinerary)
Camping and cooking gear for the group
Base camp services: dining tent, WC, hyperbaric chamber, emergency oxygen
Satellite phone service.
Mules
Porters for group gear (tents, cookware, food, etc.)
Private ground transportation throughout the trip.
24/7 assistance in the US before and during the program.
Not included
Plane tickets
Park Fees
Restaurant meals and those not listed in the itinerary
Restaurant drinks
Personal equipment (see the Aconcagua Polish Glacier Equipment List)
Personal Insurance
Personal expenses
Sat Phone calls.
Rescue costs and extra expenses caused by abandoning the expedition.
DAY 1
FLIGHT TO MENDOZA. You should arrange your flight in order to arrive in Santiago (Chile) in the morning and connect to Mendoza the same day. It is much easier to fly through Santiago then Buenos Aires, but BA is still a viable option.
MENDOZA (2,428 ft). We'll be waiting for you at the airport and then we'll drive to the Hotel. After an introductory meeting the guides will check all of your gear and we'll be ready for a welcome dinner in one of the best restaurants in town.
DAY 2
VALLECITOS. We'll get up early and obtain the mandatory permits and then drive to the village of Vallecitos (9,000ft) where we spend our first night at a mountain hut.
DAY 3
PIEDRA GRANDE. We set our camp up to 10, 800 ft . and go for an acclimatization hike. 4 to 5 hours B, L, D.
DAY 4
EL SALTO CARRY. We hike to high camp at 13,800 ft, setting a cache of supplies and gear before coming down to our camp at Piedra Grande. 4 to 6 hours B,LB, D.
DAY 5
EL SALTO. We move to high camp, where we´ll spend the next days. 3 to 4 hours.
DAY 6
REST DAY. We'll just relax and enjoy the surrounds. We might get to the base of our first climbing objective and review some progression techniques. 3 to 4 hours.
DAY 7
CERRO RINCON. Depending on conditions, we climb the "Reloj de Arena" or "SuperCouloir" route to the summit of Rincon. 8 to 12 hours roundtrip (17,500 ft.). B,LB, D.
DAY 8
USPALLATA.  We descend to Vallecitos and then drive to our hotel in the town of Uspallata, where we recover and prepare the loads for the mules. 3 to 5 hours (6500 ft). B, L, D.
DAY 9
CONFLUENCIA . After Park registration we hike to our first camp at Confluencia (10, 500 ft). 3 hours. B, LB, D
DAY 10
PLAZA DE MULAS. We hike for about 6-8 hours to Plaza de Mulas base camp
(14,300 ft) crossing "Playa Ancha" and then climbing "Cuesta Brava". After arriving to base camp, we just get confortable and relax after a long hike.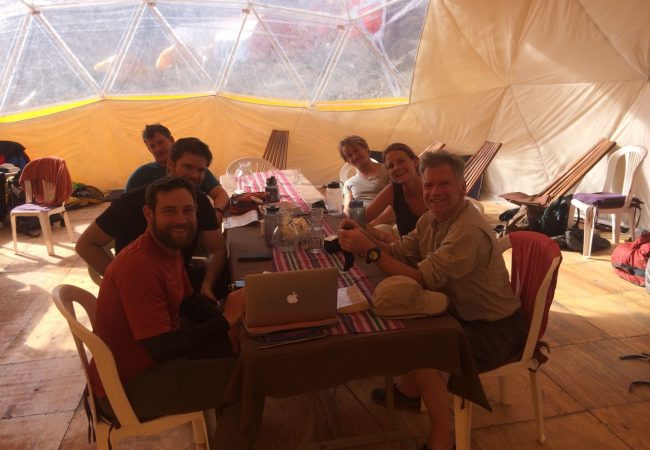 DAY 11
REST DAY. We just relax and enjoy the surrounds. Plaza de Mulas is a quite interesting place to hang out, with its international atmosphere and little town feeling.
DAY 12
CERRO CUERNO. This day we attempt a challenging sumit at 18,000 ft. The route of choice will depend on conditions. 8 to 12 hours roundtrip.
DAY 13
REST DAY. We'll have a full rest day and get ready for moving to high camps.
DAY 14
NIDO DE CONDORES. We hike for 5-6 hours to reach camp, which is at 17,500 ft.
DAY 15
COLERA CARRY. This day we hike in the morning  higher to the next camp at 19, 200 ft to leave some supplies. Back to Nido to recover. 4 to 5 hours.
DAY 16
COLERA CAMP. We move camp to Colera, 3 to 4 hours.
DAY 17
REST DAY. We use this day to assess conditions, prepare gear and focus on the summit.
DAY 18
ACONCAGUA POLISH DIRECT. Early start to reach the base of the Glacier and then climb the steep snow and ice ramp of the Polish Direct. After summit (6962 ms) we get back to our tent at Colera Camp. 10 to 14 hours.
DAY 19
PLAZA DE MULAS. We'll wake up late and hike down to base camp, where we'll arrive for lunch. In the evening we'll prepare the mule's to go down.
DAY 20
We'll put on our hiking shoes again and go all the way down to the Park entrance and then to our hotel in Mendoza. In the night, wenhave our last dinner together and celebrate our climb.
DAY 21
FLIGHT BACK HOME. Transfer to the airport. End of the program.