L ocated at the border between Argentina and Chile, nearby the town of Bariloche, Tronador (the one who makes thunder) raises up to 11.200 ft in the middle of several  lakes. A ski mountaineering objective in winter conditions, during the summer Tronador offers a great climb through crevassed terrain and a steep technical finale to the Argentinean Peak summit. The views of the North Patagonia area are hard to beat including the lake district and several volcanoes in both countries.
The amazing landscape, the cozy Meiling Hut and the challenging ascent makes Tronador the classic mountaineering objective in northern Patagonia.
EXPEDITIONS HIGHLIGHTS
● Climb with a local IFMGA/UIAGM certified mountain guide, bilingual and with experience all around the world
● Experience the best mountaineering objective in the area
● Enjoy the Argentinean cultural experience, its great food, people, and the charming town of Bariloche
● Learn and refine your mountaineering techniques helped by a top notch guide and local expert.
● Take advantage of the personalized service that makes Andes Mountain Guides the best option in Patagonia.
The Tronador Ascent
Bariloche is our starting point, where we meet, make an introduction to the trip and enjoy dinner together in town.
We drive to Pampa Linda, a beautiful spot on Tronador foothills. From here we start our aproach by the Castaño River, which goes though deep Nothofagus forest at the beggining, and follows an exposed moraine between glaciers at the end.
We take advantage of the Meiling Hut facilities, a cozy Refugio with gourmet food, good music and a great wine cellar.  On the next day we start hiking after midnight right on the glacier by the hut. Hours of moderate glacer travel will take us to a serac terrain and a big plateau just bellow the summit. On the exposed and steep last section, we might do one or two climbing pitches o fix a rope as well to get to the summit of Pico Argentino, one of the main three peaks of the mountain.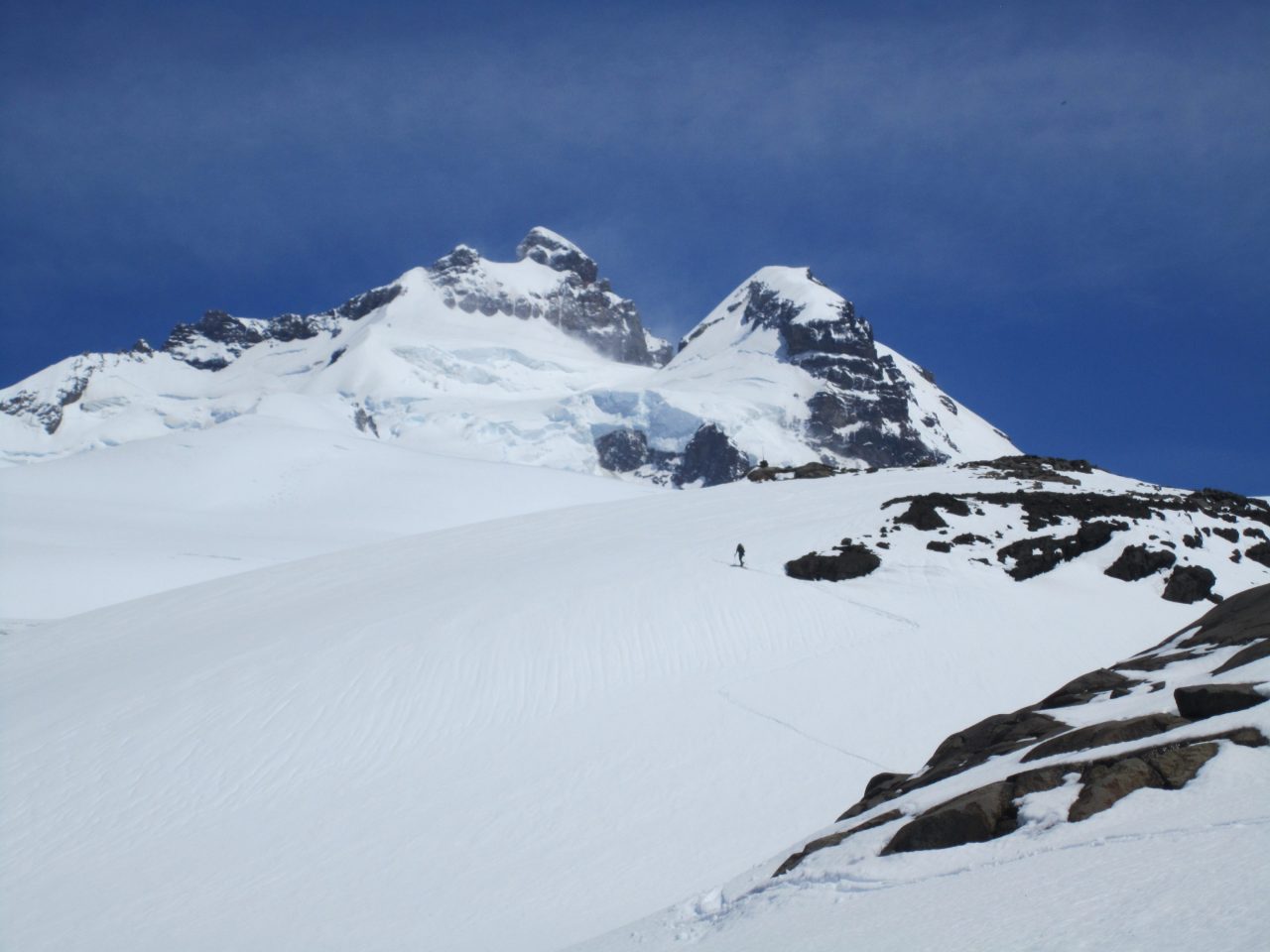 Why come with us?
AMG offers the highests standards on Patagonia climbing trips. Being a small company specialized on custom programs, we offer a personalized service in every aspect, with the advantage of having an office both in Argentina and in the USA.  Our fully IFMGA/UIAGM certified guides are elite alpinists with extensive experience working  not only in Patagonia but all around the world.
Reviews
"Climbing in Patagonia was the culmination of years of training, reading, and dreaming.  When I met Juan on a porch in Chalten, I knew immediately I was in good hands.  His preparation for our time together was a savvy compilation of weather conditions, route knowledge, and ambition, evolving daily to provide the ultimate Patagonian experience.  Juan never failed to produce a smile, even in the tough conditions and always knew just how to encourage me, that I could climb my best.   During down time in camp he showed me a wealth of new knowledge that has served me well since our trip.  Not only that, his in-tent stir-fry is the best I've ever had!  I wouldn't hesitate to call on the team at Andes Mountain Guides in the future.  These guys all know their craft and the areas they guide extremely well, having formed deep relationships with locals over the years.  With seeming ease, they put everything together to make my dream come true."
James Sellers, Portland OR