PATAGONIA ALPINE TRILOGY
TRIP DETAILS
• Skill level: Advanced. 20-25 kg packs. Alpine rock
5.9 to 10.b. Ice up to 60 degrees.
• Location: Los Glaciares N. P., Patagonia, Argentina
• Length: 15 days
• Climber/guide ratio: 1:1 / 2:1
• Capacity: 2
• Cost per person: 1:1 US$6300 2:1 US$4700
• Departure dates: on request from October to March.
IFMGA/UIAGM Mountain Guides (English-Spanish)
5 Hotel nights at Chalten
All food when trekking/climbing
Restaurant dinners (drinks not included) as seen on itinerary
All camping and cooking gear
Private ground transportation during the trip
Group technical gear (ropes, climbing gear, snow shovel, maps, G.P.S, compass, etc)
Satellite phone service
24/7 assistance in the US before and during the program.
Not included
Plane tickets
Access fees
Porters
Restaurant Meals and those meals not listed in the itinerary
Restaurant drinks
Personal equipment
Personal expenses
Rescue costs and extra expenses caused by abandoning the trip
DAY 1
El Calafate. We meet at the airport before driving through the step for for 3 hours to Chalten. After arriving  we check in at our Hotel and go out for a welcome dinner, good chance to know each other and make a good introduction of the trip. D.
DAY 2
El Chalten Climbing. This day we focus on reviewing climbing techniques at on of the crags around town. A proper team preparation, and getting everybody in the same page, will be key for our safety and climbing success. B, LB, D.
DAY 3
Cerro Solo Camp. We start hiking towards Laguna Torre until we reach the Fitz Roy rive, which we cross by a tyrolean zip line. After another hour we get close to our basecamp by the creek. HEre we set our tents and get ready for our first objective. 3 to 5 hours. B, LB, D.
DAY 4
Cerro Solo.  On our  first Summit day we first deal with several feet of mixed scree and snow terrain in order to get to the glacier. From here we rope up and climb until the bottleneck, a steeper section which gives access to the top glacier. A short section of 45 degrees takes us to the ridge, then one last push to the summit. The views from here are stunning: Cerro Torre, Cordon Adela, the south face of Fitz Roy, and the Continental Ice Cap. Back to  Camp. 8 to 10 hours roundtrip B, LB, D.
DAY 5
Back to Chalten. After breakfast we'll start hiking back to town, where hot showers, a comfy bed and a our first celebration dinner will be waiting for us. 4 hours. B, LB, D.
DAY 6
El Chalten. Rest day. Hotel night.  B.
DAY 7
Laguna Sucia camp. This day we wake up early and hike all the way to our camp at a big cave above Laguna Sucia. We walk following the  trail to Poincenot camp and later we'll start negotiating a talus terrain wbefore getting to set our camp. 5 to 6 hours. B, LB, D.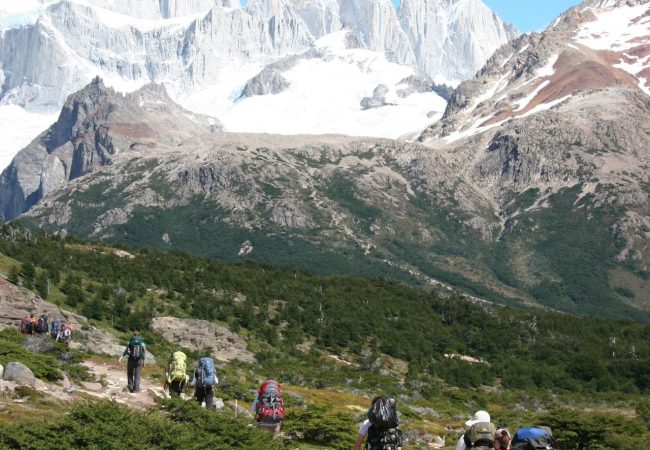 DAY 8
Aguja de L´S. On summit day we start scrambling up until reaching the glacier where we'll rope up. From here we move  up until reaching the bergschrund, where the technical difficulties begin. Then we climb aa first section of 45 degrees snow before several pitches of great granite to the summit. . After rappelling, we'll get back to the cave. B, LB, D.
DAY 9
El Chalten. In the morning we get back to town and use the rest of the day to recover and plan the next goal. Hotel night. 4 to 5 hours.
DAY 10
El Chalten. Rest day. Hotel night.
DAY 11
Piedra Negra Camp. We use the morning to rest and organize last details. Just after brunch we drive to the Rio Eléctrico bridge where we'll start hiking towards Piedra del Fraile first,  and then though the steeper trail in the area, to reach our bivy site. Good dinner, early bed and focus on the next peak. 4  to 5 hours. B, LB, D
DAY 12
Aguja Guillaumet. Depending on personal preferences and conditions, we'll chose between two classics: a mostly rock climbing route on the northwest face or a classic ice and snow couloir on the Amy Route. Both routes are fantastic, and we'll be the perfect finale for this alpine trip. 10 to 12 hours. B, LB, D.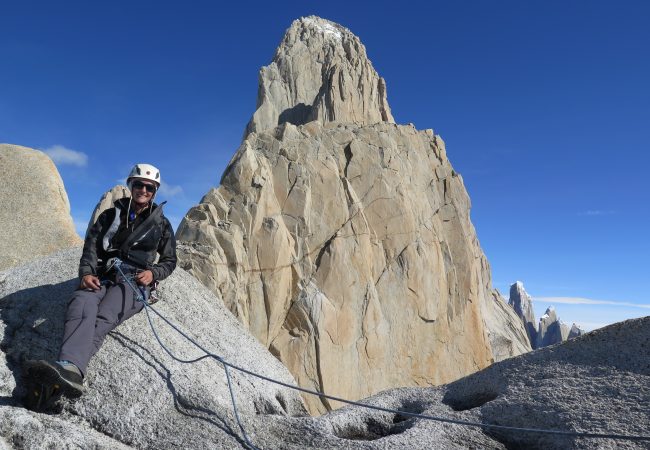 DAY 13
El Chalten. We break camp and get back to Chalten for our last night together, which we celebrate with a traditional "asado" at the gaucho´s place. B, LB, D.
DAY 14
El Calafate. Drive back to the airport for your flight home. B